St. Maria im Kapitol, the first church in Cologne to have an extensive clover-leaf choir, is situated in the south-eastern corner of the Roman city and was constructed on the very foundation walls of the Capitoline Trias. In the early 8th century, Plectrudis, the stepmother of Charles Martel, founded a convent for ladies on this spot. This was subsequently transformed into a convent housing Benedectine nuns by Archbishop Bruno (954-965) , and eventually it became a noble institution for ladies of rank in the 12th century. In spite of it having become a parish church in 1802, the church has retained the only cloisters in Cologne.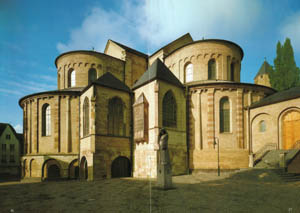 The building as it is today was constructed in he 11th century, and the construction work was begun at the instigation of Abbess Ida, who was a member of the Ottonian imperial family. In 1049 Pope Leo IX. consecrated the rood altar in the nave and in 1065 - five years after Ida's death - the complete church itself was consecrated by Archbishop Anno.

The crypt is situated beneath the choir and takes full advantage of the slope in the ground leading towards the Rhine. This crypt is the largest in Germany, with the exception of the one in Speyer. When Anselm of Canterbury began building a new Cathedral in 1096, he followed the plan of St. Maria im Kapitol. Even though the crypt of Canterbury is almost twice as big, a comparison of the ground plans clearly shows the similarity of the two crypts.
The building underwent several modifications to its structure in subsequent years and was severely damaged during World War II. In spite of all these changes, however, the building represents one of the most remarkable architectural achievements of the early Middle Ages.